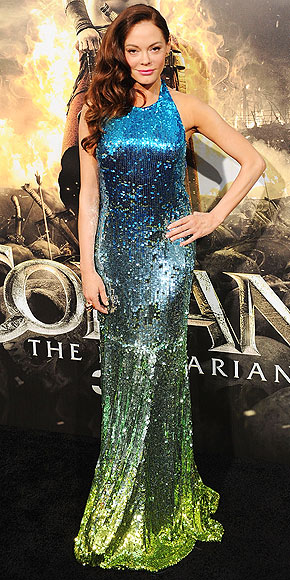 Rose is known for her acting career for which she has starred in bit hits such as Scream, Grindhouse, and most recently, Conan The Barbarian. She is even known for her odd relationship with Marilyn Manson and the infamous 1998 VMA's stringy dress. There is something that most don't know about her past and that is that Rose McGowan Escape From Cult As A Child.
During a recent issue of People magazine, the 38 year old actress, talks about her childhood was spent in the Children of God cult. What this cult was all about was a "polygamous cult that blended free-love attitudes with Christian proselytizing." She describes her emotions as being scared or angry most of the time.
McGowan talks about a particular incident in where you are not allowed to any imperfections on your body while being in the cult. "I had a little wart on my thumb, and I remember walking down this hallway—a door opened and some adult grabbed me and just cut it off with a razor blade and stuck me back out in the hallway with it still bleeding."
McGowan also talks about how the men in the cult treated the women. They were allowed to have many wives and the sole purpose of the wives was to serve the men sexually. The women would even go out to any local or in the area bars to try to "recruit" any other lonely women they could find. This act was titled "flirty fishing."
McGowan's father had decided that he had to get himself and his kids out of the cult once he was asked to draw cartoon literature that advocated a child and adult sexual relationship. He had feared that McGowan was going to soon be sexually abused. At age 9, McGowan and her siblings and father escaped the cult during the middle of the night. They hid in a stone house to avoid the cult members who went searching for them. McGowan expressed, "I remember a man trying to break in with a hammer."
McGowan is very grateful her father saved her and her siblings. After the escape they grew very close and even closer when her father was diagnosed with pulmonary fibrosis at the age of 60. He died in 2008. She is still very close with her siblings till this day.
The Children of God sect changed their name a few years back to The Family International and has "renounced its advocacy of sexual sharing" and adult-child sexual relationships. This is cult as well as many other are completely sickening and taking away children's innocence. If you are involved or know of a cult such as this one please report it to the authorities. These types of cults need to be shut down and those in charge should be arrested.